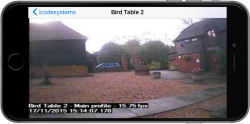 Using your iPhone with CCTV has never been easier. There are many options to view CCTV remotely with your iPhone, iPod Touch or iPad.
iCatcher Go, iCode's entry-level application for all iOS and Android mobile devices, allows you to view high speed images from iCatcher Console or a wide range of IP cameras.
iCatcher Pro provides additional features for users of the iCatcher Console CCTV Software System, including remote playback, PTZ control and automation control. iCatcher Pro is also available for all iOS mobile devices.
iCatcher HD is enhanced to make use of the extra screen space on the iPad and iPad 2, and supports all the features of iCatcher Pro, along with a quad-view allowing the viewing of four cameras simultaneously (requires iCatcher Console).
Please visit the Apple App Store for your download of iCatcher Go, iCatcher Pro or iCatcher HD.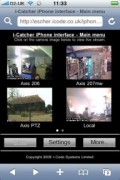 Additionally, iCatcher Console includes as standard an optimised webview for the iPhone, iPod Touch, iPad and iPad 2. Featuring an intuitive, easy to use design, you can now have the same camera and IO control from iCatcher on the move. Login and view your cameras remotely, pan tilt and zoom or even turn the lights off from the palm of your hand!
The web view also features compatibility for iDomain, which links multiple camera installations together in a single web view.
Visit http://cctv.icode.co.uk/iphone from your iOS Safari web browser to see iCatcher in action.
iCatcher Go, Pro and HD support direct connection to a wide range of IP cameras. For use with the iCatcher CCTV System, iCatcher Go requires Console 3.3 build 20 and later, iCatcher Pro and iCatcher HD require Console 4.0 build 44 or later. The iPhone web view is available in Console 3.3 and later. Upgrades are free within the same major version.
iPhone, iPod Touch, iPad and iPad 2 are trade marks of Apple Computers, Inc.