iCatcher Console utilises a very flexible graphical user interface (GUI) that allows almost any arrangement of feeds on screen, even across multiple monitors - a feature rarely found in other digital CCTV systems.
iCatcher Console provides direct access to all feed configuration via a "tree view" that allows grouping of cameras as well as showing additional CCTV features such as sensor lists, plan views and access to alert and user settings.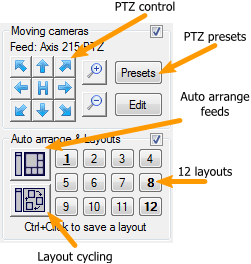 Below the list of feeds is access to the control mechanisms covering the layout of feeds and the positioning of Pan/Tilt/Zoom (PTZ) Cameras. This section of the Console GUI is explained in more detail in the image on the left.
The first section contains the controls for moving and zooming PTZ cameras, as well as jumping direct to preset positions, and a means for editing the preset positions.
The second section controls the appearance of feeds on-screen, and provides for 12 individual layouts. These can be customised to provide layouts optimised for specific situations. One example of such an implementation might be a convention/exhibition hall, where camera focus can differ between events, but is always the same set of cameras.
It is also possible to cycle through layouts automatically. The feeds change positions as each layout is set on a timed basis. This provides for a system where a small selection of cameras out of the total system can be on-screen providing focus, with automatic shifting to a different set after a time period, allowing the Console to be used an effective and flexible monitor.
Lastly, the Auto-Arrange facility allows the feeds to be arranged on screen in a "best fit" arrangement to keep the layout tidy. The PTZ controls are also duplicated on the web interface, keeping the user interface familiar.

iCatcher Console running multiple cameras on a PC with 3 monitors attached. iCatcher's ability to display information on multiple monitors is unrivalled, making the most of CCTV's rarest commodity: screen space.
iCatcher Console offers an extremely flexible and easy-to-use user interface for everyday tasks concerning your CCTV system, and ensures that essential features can be found quickly and easily.