Try it Now
Try iCatcher Console free of charge for 21 days.
read more...
Buy it Now
Purchase iCatcher Console from only £139.95.
read more...
Case Studies
Some of the success stories using iCatcher Console as the CCTV core.
read more...
CCTV Shop
Buy video and capture hardware, cameras, and iCatcher Console discount bundles.
read more...
Remote Control
Control our lights and fan from our website, using embedded iCatcher functionality.
read more...
Sample iCatcher Sites
See the best iCatcher live feeds from around the world.
read more...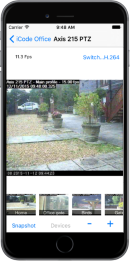 iCatcher Go allows high speed remote viewing of CCTV & web cameras from your iPhone, iPod Touch or Android device.
iCatcher Go can either connect to your iCatcher CCTV software, or directly to your IP cameras. Although cameras and iCatcher Console have their own web interfaces the iCatcher Go application allows much faster access to your cameras.
When viewing iCatcher cameras, iCatcher Go utilises iCode's high speed, low bandwidth streaming protocol iPEG. Mobile views of your iCatcher Console have never been faster.
You can stream high speed iPEG from iCatcher Console or high quality MJPEG/JPEG from a wide range of IP Cameras. IP camera support includes Axis, Sony, Mobotix, Panasonic, YCam, Elmo and various other IP cameras currently supported by iCatcher Console.
Application Features:
Live viewing from iCatcher Console and a wide range of IP cameras
Rapid switching between saved camera feeds
Frame rates of up to 20 fps from iCatcher Console feeds
Simple installation and easy to use intuitive design
Full screen camera views available
PTZ control (on iPhone/iPod only)
Image capture to the camera roll or gallery
Free updates
To see a list of supported cameras click here.
iCatcher Go Demonstration Video