Highlights >>>>>>
Implementing iCatcher
Learn how to implement an iCatcher system, from single camera residential to multi-camera - multi-site.
read more...
Sample iCatcher Sites
Many thousands of people around the world use iCatcher software. See iCatcher images live.
read more...
Wildlife picture gallery
i-Catcher Wildlife captures fantastic scenes from nature. Have a look at some of the best.
read more...
Capture equipment
Find out about suitable equipment for use with iCatcher, from cameras to lighting, and more.
read more...
iCatcher Business Partners
Would you like to learn more about how to do business reselling iCatcher solutions?
read more...

our office console installation
Our Office Location - Security Considerations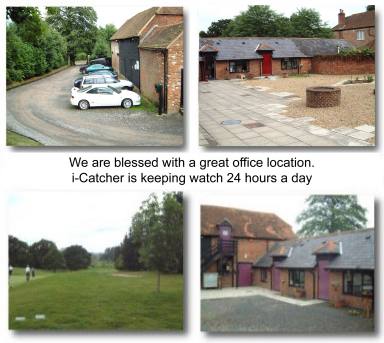 The iCode Systems Limited Office is located in the grounds of a Golf Course and Hotel complex in the beautiful English countryside. This location is perfect for capturing images of wildlife and birds, but also presents a security risk given the remote location.
We operate an iCatcher Console system for our own peace of mind. The location means that access to the offices is via the golf course or our own car park (often used by golfers trying to sneak on for a free round). The pictures to the right show views of our offices and the surrounding countryside.
We have located cameras to cover the car park and the main entrance to the offices through the courtyard.