Implementing iCatcher
Learn how to implement an iCatcher system, from single camera residential to multi-camera - multi-site.
read more...
Sample iCatcher Sites
Many thousands of people around the world use iCatcher software. See iCatcher images live.
read more...
Wildlife picture gallery
i-Catcher Wildlife captures fantastic scenes from nature. Have a look at some of the best.
read more...
Capture equipment
Find out about suitable equipment for use with iCatcher, from cameras to lighting, and more.
read more...
iCatcher Business Partners
Would you like to learn more about how to do business reselling iCatcher solutions?
read more...

Equipment
Tugley - Remotely Operated Night Vision Test Platform for iCatcher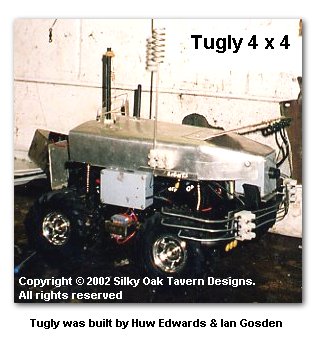 The picture on the right is "Tugley", a model 4 x 4 car that was modified as a mobile test bed for iCatcher (and it was a lot of fun too). Tugley currently resides in Townsville Australia, in the home of Ian Gosden who was responsible for the panel work.
Tugley's equipment consisted of a 2.4 GHz video transmitter with separate remote control channel with co-linear antenna design. An electrets microphone with pre-amplifier is used to feed the audio channels of the 2.4 GHz transmitter unit. The vehicle is controlled by a 27 MHz remote control unit, and features 2.5 KV electrified bumper bars, armed remotely. IR Floodlighting is powered from Nickel Metal Hydride (NiMH) battery packs.
Fugley, not pictured here is a 1.394 MHz unit of approximately the same specification with the exception of much longer range (500m+). In addition to the increased range, the inclusion of 0.0015 lux low-light B&W night vision cameras (front and rear) and 12 Ah battery packs make this a very capable remotely operated viewing platform. The output from this vehicle is fed into the input of i-Catcher Sentry so that the cameras can be remotely positioned anywhere in a squre kilometer area around the receiving station and placed in a low power consumption mode while i-Catcher Sentry monitors the camera feed.
If you have any questions on Fugly/Tugley please contact us here.