Implementing iCatcher
Learn how to implement an iCatcher system, from single camera residential to multi-camera - multi-site.
read more...
Sample iCatcher Sites
Many thousands of people around the world use iCatcher software. See iCatcher images live.
read more...
Wildlife picture gallery
i-Catcher Wildlife captures fantastic scenes from nature. Have a look at some of the best.
read more...
Case Studies
Read about some of the success stories that use iCatcher Console as the key CCTV component.
read more...
iCatcher Business Partners
Would you like to learn more about how to do business reselling iCatcher solutions?
read more...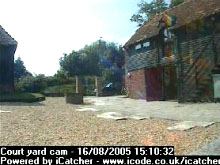 Contact iCode Systems
iCode Systems Ltd is a Consultancy & Software Development house based in Hampshire, England.
In addition to bespoke customer systems, we have developed iCatcher - a market leading Digital CCTV application that allows companies to deploy industry standard hardware to create a comprehensive security solution.
You can contact us using the details below. If you are contacting us for support for iCatcher Console 4.0 and later, please ensure you send the Server Report to us along with your enquiry. The Server Report can be accessed by clicking on the "Support" button on the main iCatcher Console menu bar.
iCode Systems Ltd
Unit 5
Grange Farm Business Park
Shedfield
Southampton
SO32 2HD
Google maps are now available of our area. Click the link for our browseable map.