Try iCatcher free
iCatcher software can be tried for 21 days free of charge. Download now and get instant access to iCatcher.
read more...
Buy iCatcher from $79
iCatcher software can be purchased for as little as $79. Get instant access to the full iCatcher software.
read more...
Sample iCatcher Sites
Many thousands of people around the world use iCatcher software. See iCatcher images live.
read more...
Wildlife picture gallery
i-Catcher Wildlife captures fantastic scenes from nature. Have a look at some of the best.
read more...
Capture equipment
Find out about suitable equipment for use with iCatcher, from cameras to lighting, and more.
read more...

iCatcher Digital CCTV Software
Multiple Camera Implementation

• Buy iCatcher now from $79 • Try iCatcher free now for 21 days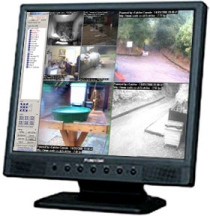 Most multiple camera installations using iCatcher technology utilise the iCatcher Console application. Image information is generated primarily by feeds running as seperate processes on the iCatcher Machine, or i-Catcher Sentry clients running on other machines connected to the Console via the local area network.
In order to connect multiple analogue cameras to a single CCTV system, iCatcher Console works directly with the Euresys range of multiple-input video capture cards, including the Junior 4, Picolo Pro 2 and Picolo Alert cards. Using this technology a single PC can record from up to 32 analogue cameras connected directly, or more if additional PCI slots are available.
iCatcher Console's feed limit is much higher. With its ability to handle network video sources such as IP cameras and video servers and remote Sentry/Wildlife clients, Console can, subject to system specification, handle up to 255 video feeds.