Try iCatcher free
iCatcher software can be tried for 21 days free of charge. Download now and get instant access to iCatcher.
read more...
Buy iCatcher from $79
iCatcher software can be purchased for as little as $79. Get instant access to the full iCatcher software.
read more...
Sample iCatcher Sites
Many thousands of people around the world use iCatcher software. See iCatcher images live.
read more...
Wildlife picture gallery
i-Catcher Wildlife captures fantastic scenes from nature. Have a look at some of the best.
read more...
Capture equipment
Find out about suitable equipment for use with iCatcher, from cameras to lighting, and more.
read more...

iCatcher Digital CCTV Software
Home Security Implementation - CCTV Monitoring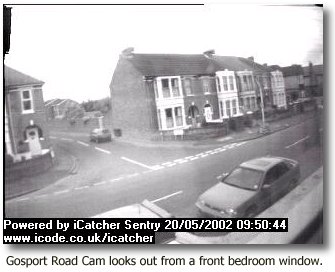 i-Catcher Sentry CCTV systems are perfect for home security/surveillance applications.
Most people will agree that the things they hold most dear are their family, their home and their possessions. Where ever you may live, if you haven't been a victim of crime yourself, it's likely that you'll know someone who has. But with iCatcher software providing a more secure home has never been easier. Increasingly, homes have a computer and an internet connection. With the addition of iCatcher software and a suitable camera you can create a home surveillance system for a fraction of the cost of traditional CCTV systems. Also iCatcher gives you the additional benefits of remote internet viewing, motion activated recording and sophisticated alerting functions.
Alarm systems rarely do more than provide an indication that a crime has been committed, but iCatcher can provide vital visual evidence that can be used to identify and apprehend the criminal. Having peace of mind of being able to monitor and review activities in your house and garden or keep watch over your car, even when you're holidaying on the opposite side of the world, is a further benefit. The picture to the right is from the Gosport road camera featured in our sample images pages. This camera looks across the road from an upstairs window watching over the owners vehicle. Needless to say, the rest of the property is also protected by iCatcher.
If you already own a PC and a web camera then all you need is i-Catcher Sentry. For more advanced installations, iCatcher Console can be used to build a multi-camera installation.