Try iCatcher free
iCatcher software can be tried for 21 days free of charge. Download now and get instant access to iCatcher.
read more...
Buy iCatcher from $79
iCatcher software can be purchased for as little as $79. Get instant access to the full iCatcher software.
read more...
Sample iCatcher Sites
Many thousands of people around the world use iCatcher software. See iCatcher images live.
read more...
Wildlife picture gallery
i-Catcher Wildlife captures fantastic scenes from nature. Have a look at some of the best.
read more...
Capture equipment
Find out about suitable equipment for use with iCatcher, from cameras to lighting, and more.
read more...

iCatcher Digital CCTV Software
Baby - Nursery Security Implementation - CCTV Monitoring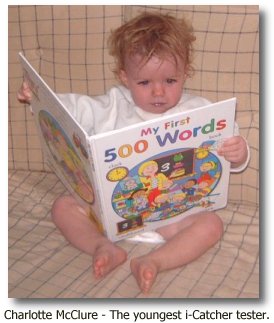 We are often asked if our products can be used for monitoring baby in either a nursery or bedroom environment. The best way to implement such a system is to use a wireless camera to transmit from the bedroom to the PC.
If you wish to monitor baby in dark conditions then it makes sense to have an Infra red camera system, which comprises of a black and white camera and infra red LED illumination.
If the system is being installed in a nursery environment then a hard wired solution is preferable. A busy nursery/kindergarten could install a copy of iCatcher Console to allow parents access to view their children at any time of day or night via the internet. Access to this could be restricted to parents by means of a password. By using the iCatcher Console software, additional cameras could be added to the system as and when they were required.
The young lady pictured on the right is Charlotte McClure, who has been instrumental in field testing iCatcher for baby monitoring.
For more information please contact iCatcher sales.