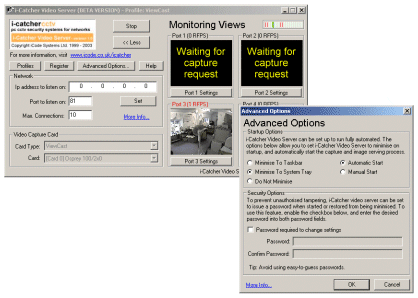 i-Catcher Video Server operates directly with supported multi-port video capture cards, and presents each of these ports as a single network video source, allowing a single computer to become the source of four video feeds per instance of i-Catcher Video Server.
You can run up to four instances, thereby increasing the number of sources a single computer can provide up to sixteen. You simply enter the host, port, and address of the specific camera into i-Catcher Sentry, Wildlife, or Console, and i-Catcher Video Server runs transparently like any other local or network video source.
i-Catcher Video Server is fully configurable, and takes advantage of all the features your supported capture card provides. Features such as differing image sizes, video signal formats, interlaced/non-interlaced images, and brightness and contrast. As with all iCatcher products, the embedded web server that is used to serve video images is not bound to any particular internet address or host port, so it won't conflict with your existing software.
i-Catcher Video Server is also fully automated. An automatic start option, along with automatic minimise options ensures that i-Catcher Video Server can start up without user interaction, providing a fully automated and recoverable solution for your needs. Also included is a security feature to prevent accidental changing of settings, or tampering by other users.
As with other iCatcher products, you can buy the full version of i-Catcher Video Server, or you can download a registration key that will give you full unlimited access for 21 days, after which i-Catcher Video Server will drop to a demonstration mode, and will have limited functionality.
Please note that i-Catcher Video Server only works with supported video capture cards. i-Catcher Video Server needs to access the cards directly in order to switch the video ports while capturing. At present, only two video card ranges are supported, please make sure you have one of the following cards before you buy:
ViewCast Osprey 100, 200, 500, 540, 2000 *
Euresys Picolo Pro, Pro 2, Pro 3, Junior 4, Tetra **
Also, due to limitations of the direct access driver from ViewCast, the Osprey cards will only function with i-Catcher Video Server in Windows NT, 2000, or XP.
Please note: Most of the functionality of i-Catcher Video Server is now part of iCatcher Console directly. iCatcher Console supports input switching with a wide range of capture cards and includes support for accessing Euresys Picolo cards directly.
i-Catcher Video Server is supplied free of charge if you purchase an Opsrey 100 or Picolo Pro 2 from us, or purchase a bundle that includes either capture card. We do not issue free i-Catcher Video Server registration keys automatically, so please request your keys by email if you require them.
* Only the Osprey 100 has been tested.
** Only the Picolo Pro 2 and Junior 4 have been tested.
iCatcher Minimum System Requirements