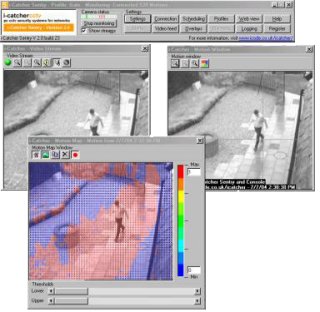 See the PC Magazine review of
i-Catcher Sentry for surveillance
Version 3 of the hugely popular i-Catcher Sentry offers a number of enhancements that improve the usability of i-Catcher and the images it has recorded.
i-Catcher Sentry turns your PC into a single-camera CCTV system quickly and easily. i-Catcher Sentry captures from USB web cams, composite video cameras (via suitable capture cards or IP Video Servers), and the latest network video devices, and uses advanced motion detection to trigger recording. Pre- and Post-Event recording ensures you capture the short periods before and after the motion so that you don't miss a thing.
The built-in web server puts your CCTV system on your network or the internet with little effort, giving you remote access to the live feeds as well as the recorded images. Security features are included to allow only authorised persons to view the system.
Sensitivity controls and user-defined masks ensure you don't record shadows and clouds moving across the image.
Automatic removal of old images and scheduling of operation ensures the minimum of maintenance on your CCTV system. Sophisticated alerting functions can send captured images by email, or upload them to a web site for remote viewing, and SMS message alerts can also be configured via an external application*.
In addition to motion detection, i-Catcher can operate in time lapse or web cam modes. The advanced playback system allows you to instantly view the recorded footage, and jump to any time and date without delay - all while the system is still recording.
Whats new in version 3.0
iCatcher Clump Engine - ICE motion detection now included
Tripwires - Object counting with virtual tripwires
Intelligent masking - Intelligent masking
iPeg - Fast remote viewing iPeg Support
Additional Camera Support - Huge range of camera support added
Copies - Run multiple copies at no extra cost
iCatcher Go & Pro - iCatcher Sentry & Wildlife now support our iPhone and Android Apps
iCatcher Minimum System Requirements
* i-Catcher Sentry can send SMS messages via installed SMS software that can be operated from the command line. Currently, i-Catcher Sentry has no SMS sending capability itself, so you will need to download additional SMS components from a third-party software vendor. A version of Sentry that uses the iCode SMS System is in development and should be available shortly.