Sample iCatcher Sites
Many thousands of people around the world use iCatcher software. See iCatcher images live.
read more...
Wildlife picture gallery
iCatcher is widely used as a wildlife photography system. Take a look at the amazing pictures iCatcher has already recorded.
read more...
CCTV Shop
We have an online shop where you can buy video and capture hardware, as well as iCatcher bundles at discounted price.
read more...
Capture equipment
Find out about suitable equipment for use with iCatcher, from cameras to lighting, and more.
read more...

iCatcher Sample Videos & Images
Videos captured with iCatcher CCTV Software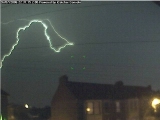 Lightning over Gosport
A simple USB camera installed in the home of one of our developers captured a lightning strike using the iCatcher Digital CCTV System. In the image, the lightning appears to have struck telephone cables across the road, however the point in question is in fact the source of the lightning, and is at least a mile behind the cables.
Click here or on the image to see the lightning strike.