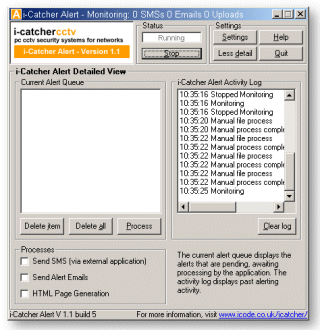 i-Catcher Alert Manager was supplied with iCatcher Console up to 5.3. As of iCatcher Console 6.0, it has been fully integrated and is no longer required.
It provides the alerting functions to send emails, text messages*, network messages ("Net Send" messages)* and perform FTP uploads to websites.
As a stand-alone application, i-Catcher Alert usually runs on the same PC as iCatcher Console, but can also run on a different machine entirely, allowing CCTV tasks to be spread across different systems.
Alert manager constantly monitors the console's alerting requirements, alerts are held in a queue on a first come first served basis. The functionality is increased over the stand-alone alerting features, mainly due to the large number of alerts the manager potentially has to deal with.
The screen shot to the right shows the i-Catcher Alert running. The window on the left shows the alerts waiting in the queue ready to process, while the window on the right shows details of the alerts already processed (the log). The operation of the i-Catcher Alert can be manually stopped at any time, and required jobs can be deleted from the current queue.
See here for the i-Catcher Alert help files
* "Net Send" Messages are not available in Windows Vista, and may not be enabled by default in a Windows XP configuration and may require the Windows Firewall to be disabled. This is not a limitation of iCatcher, but rather the way network messaging is configured in Windows XP.
* Sending of SMS Text Messages requires an iCatcher SMS account. Messages are charged depending on the destination network, and credits must be purchased in advance. Text messages require 1.5 credits on average. Registration and pricing for iCatcher SMS services are available here.