Highlights >>>>>>
Implementing iCatcher
Learn how to implement an iCatcher system, from single camera residential to multi-camera - multi-site.
read more...
Wildlife picture gallery
i-Catcher Wildlife captures fantastic scenes from nature. Have a look at some of the best.
read more...
Capture equipment
Find out about suitable equipment for use with iCatcher, from cameras to lighting, and more.
read more...

camsentry off-site cctv storage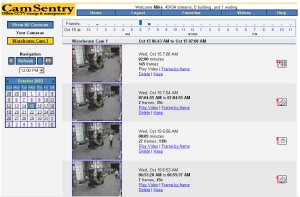 An iCatcher partner site offering secure storage of your CCTV footage with instant access.
When using a digital CCTV system, it may be desirable to use a system whereby CCTV footage is not only recorded on the premises, but also stored at a secure location where it may easily be accessed, should the primary system be compromised.
Consider for example, a situation whereby a property is broken into, and the iCatcher Digital CCTV system records the intruders, but unfortunately the iCatcher system is stolen along with other possessions. With CamSentry a copy of the footage is saved on a server in a secure location safe from the hands of those who might want to cover their tracks.
CamSentry offers a simple set-up process to connect your iCatcher Systems to their services. Once all is set-up, the off-site archiving process is automatic. You don't need to download any additional software.
If you're looking for an off-site storage solution then we would highly recommend taking a look at CamSentry's services. Their website can be found at http://www.camsentry.com.