i-Catcher Possibilities
i-Catcher can be used as a simple webcam or as a full CCTV system. See how i-Catcher can help you.
read more...
Sample i-Catcher Sites
Many thousands of people around the world use the i-Catcher software to put their cameras online.
read more...
Wildlife picture gallery
i-Catcher Wildlife captures fantastic scenes from nature. Have a look at some of the best.
read more...
Capture equipment
Find out about suitable equipment for use with i-Catcher, from cameras to lighting, and more.
read more...
We have an online shop where you can buy video and capture hardware, as well as i-Catcher bundles at discounted price.
read more...

i-Catcher Records Fire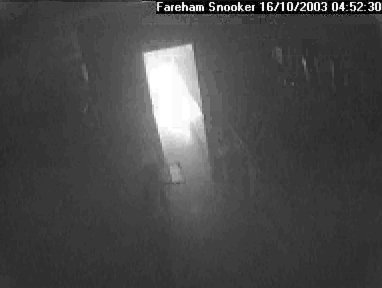 On the 15th of October 2003, an accident at Fareham Snooker Club caused a fire to break out in the early hours of the morning, starting from the kitchen. An iCatcher Console system was recording at the time, with one of its cameras pointed directly at the source of the fire.
From the recorded images, it was determined that the fire took over five hours to become noticeable, as i-Catcher's motion detection systems didn't pick up the fire until 4:51am, five and a half hours after the club was locked up for the night.
The footage available here shows the fire from the time it registered as motion on i-Catcher, to the time the intense heat caused the camera to fail. The last frame of the sequence is completely blue. This is when the capture card in the i-Catcher system lost the signal from the overheated camera.
The video begins shortly before the club locked up. This shows you the time-span between then and the fire becoming noticeable.
Click here or on the image to see the full video.